The machine is designed for the filling of liquid and paste-like products in pre-formed plastic cups and containers of various shapes with sealing of pre-cut aluminum foil lids and capping with a plastic lid.
The fully automatic machine is based on a modular design. The advantage of the modular design is obvious. In the process of increasing the sales of production, quantity of units to gradually increase from one to nine machines, respectively, to increase the productivity of filling and sealing equipment gradually from 2,000 to 18,000 cups/hour.
Range of filling products: yogurt (also with pieces of fruits), sour cream, milk, cream, mayonnaise, fresh cheese, processed cheese, butter, quark, jam, composite products.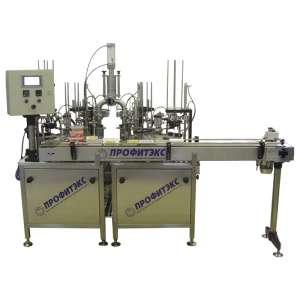 Technical data
Output of one module with product:
Pneumatic drive – up to 1500 cups/hour
Electromechanical drive – up to 1800 cups/hour
Servo drive – up to 2000 cups/hour
Dimensions of one module: 900*850*1800 mm
Weight: 230 kg
Power supply: 220-240V, 50 Hz
Power consumption: 1.2 kW
Air-pressure: 0.6 MPa
Сompressed air consumption: no more 250-300 liters/min
Options
Additional filler for two products in one cup
Set to another size of cups
Heated hopper with auger up to 120 l
Closing by plastic lids
Advantage
Gradual build-up of modules
High quality sealing of pre-cut lids (tubular coiled heating element)
Vacuum-compensator (to prevent swelling of aluminium lids)
Fast change over of set to another size of cups