The automatic bucket filling machine is designed for the filling of liquid and pasty products into plastic buckets of various shapes, volume 500 – 1000 ml and closing by plastic lids. The machine can be equipped with a conveyor and labeling station for self-adhesive labels for stick labels on the lid or on the side of bucket. Machine is fit for round, rectangular and oval buckets. Option of foil-sealing the buckets is possible.
Range of filling products: sour cream, mayonnaise, drawn butter, ghee, and other liquid and paste-like products.
For example paints, glues (chemical industry) or plastic wood filler (building supplies).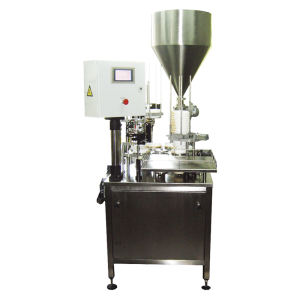 Technical data
Electromechanical drive – up to 1800 cups/hour
Servo drive – up to 2000 cups/hour
Dimensions: 900*850*1800 mm
Weight: 250 kg
Power supply: 220-240V, 50 Hz
Power consumption: 1.2 kW
Air-pressure: 0.6 MPa
Сompressed air consumption: no more 250-300 liters/min
ISO certification
Materials: Stainless steel
Advantage
Reliability
Easy maintenance
The device of displacement of air from the bucket (to prevent swelling of lids)
High productivity