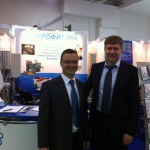 Company PROLINOM s.r.o. is founded as agency of russian machine factory Profitex. Our mission is to represent the interests of the factory overseas. The task of PROLINOM s.r.o. is export-import service for machine factory Profitex. PROLINOM s.r.o. among other things, conducting research and implementing new breakthrough start-up projects in various fields of business.
Machine-building plant Profitex is leading manufacturer of packaging equipment in Russian Federation. We made great progress in the area of food product filling in a plastic cup and sealing it by aluminum foil lids. In addition, we offer a laser marker for coding packages. Our latest development is gable top carton filling machine.
By the time 2015 Profitex install more 1500 machines in various parts of the world.
Our partners: "WaldBud", SIA (Latvia), PSG plus s.r.o.(Slovakia)