Aluminum die cut lids for premium segment products
Quality "vivid" printing. Wide range of applications. Tear resistant.
Unembossed die cut lids has all the qualities you expect a premium segment product to feature. Glossy, non-embossed surface of the lid coupled with full-color pixel-precise printing means bright colors, instant recognition of the product on the shelf, and hence assured brand awareness. Also, thanks to tear resistance properties, premium die cut lids are easy to open, which is a must for the higher price segment.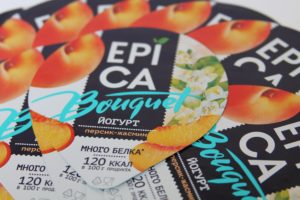 Challenge the premium segment with PROLINOM s.r.o.
Luxury look
Unembossed surface of the die cut lid means clean and bright colors making the picture on the packaging vivid and lively. The product looks absolutely stunning, well matches expectations of the premium segment target audience, and provokes impulse buying.
Effortlessly opens
Thanks to the special foam heat seal lacquer, and the enhanced properties of the aluminum foil, the lid detaches from the cup in one simple move. Premium segment consumers hate when a lid tears, so PROLINOM unembossed die cut lids are readily tear resistant.
Suits for any product
Yoghurts, desserts, jams, nut-butter, infant food, soups – unembossed die cut lids suit any product and make it look extremely attractive. The lid allows wide range of sealing temperatures, and easily survives thermal treatment and sterilization of the product.
Fits any production line
With a wide range of sizes and shapes of the lid including non-standard ones, the support for virtually any fill-and-seal line, and varying roll sizes, you can start using our unembossed die cut lids in production quickly.
Europe's choice
Approximately 80% of European factories use unembossed die cut lids to package their products. Order a free sample now!